The headset market for the PC and PS4 gets a little lighter with the addition of Hyper X' Cloud White Edition Headset.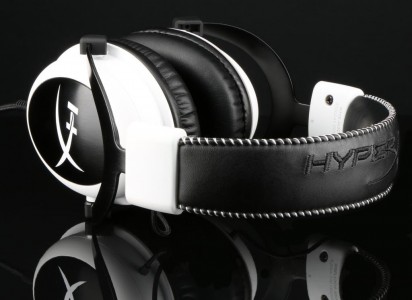 Seems like the headset market has really been booming over the last few years. There are more manufacturers than ever and new sets are released all the time now, whereas they were few and far between not all that long ago. Choice of course, is the best thing in any market and Hyper X (a division of Kingston Technology Company) has made a serious stab at the market with their series of headsets that kicked off with the HyperX Cloud Black Edition.
If you're familiar with that model, the Cloud White Edition offers the same functionality and compatibility with the PC and PS4, just in an all new black and white color scheme. If you've ever thought 'I'd like to look more Stormtroopery in my headset', this is the pair of phones for you. Made with an eye towards longer game sessions, the Hyper X sets sport a soft leather headband and an over-the-ear design for their ear cups that is intended to provide comfort in during longer play.
And they're not all form either as the functionality is right there. The Hyper X Cloud White (and Black) Edition headset has 53mm audio drivers and a detachable mic, so you can just listen to some tunes if you want. It's also compatible with just about anything that's got an audio port, even though it touts PS4 and PC use, so you can easily hook it up to your smartphone or tablet if you like.
The full spec list is below for your perusal and you can get even more info on the Hyper X Cloud White Edition headset by clicking here.
HyperX Cloud White Edition Features and Specifications:

Headset:

Transducer Type: dynamic Ø 53mm
Frequency Response: 15Hz–25,000 Hz
Nominal SPL: 98±3dB
Operating principle: closed
Nominal impedance: 60 Ω per system
T.H.D.: < 2%
Power handling capacity: 150mW
Sound coupling to the ear: circumaural
Ambient noise attenuation: approx. 20 dBa
Headband pressure: 5N
Weight with microphone and cable: 350g
Cable length and type: 1m + 2m extension + 10cm iPhone
Connection: mini stereo jack plug (3.5 mm)

Microphone:

Transducer type: condenser (back electret)
Operating principle: pressure gradient
Polar pattern: cardioid
Power supply: AB powering
Supply voltage: 2V
Current consumption: max 0.5 mA
Nominal impedance: ≤2.2 kΩ
Open circuit voltage: at f = 1kHz: 20 mV / Pa
Frequency response: 100–12,000 Hz
THD: 2% at f = 1kHz
Max. SPL: 105dB SPL (THD≤1.0% at 1KHz)
Microphone output: -39±3dB
Length mic boom 150mm: (include gooseneck)
Capsule diameter: Ø6*5 mm
Connection: mini stereo jack plug (3.5mm)