A brand new addition to the Skylanders family, the all-new Skylanders Minis pack a pint-sized wallop.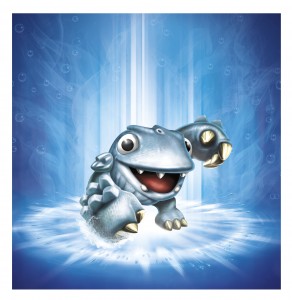 The new Minis are small, but they're basically just a pocket-sized version of a full-on Skylander figure. The smaller scale figures will function just like the basic Skylanders in that they're compatible with the Skylanders games and can be hot-swapped into and out of the adventure while you play. You'll also be able to upgrade them with new skills and abilities, just like you would with any other Skylander figure.
With the announcement of the fact that the entire, full-on Skylanders Trap Team game is coming to tablets, the Minis make sense in a whole new way too, as they're perfect for stowing in a bag or backpack instead of dragging a bunch of your full-sized figures along with you for mobile gaming. Trap Team is certainly ushering in a lot of 'new' for the franchise, which is very cool to see since Activision and developer Toys for Bob could easily have just rested on their laurels wight eh series already being so popular.
Five of the new figures are actually at the Gamescom show right now too, and can be played with in the game. Other than who's on display (which is Spry, Mini Jini, Drobit, Trigger Snappy and Hijinx), Activision is planning to have a bunch more on shelves for when the newest edition of Skylanders hits retail with Trap Team. Speaking of, you can play Trap Team right now at the Gamescom event, if you happen to be in Germany for the show… and are 'mini' enough to meet the booth's height requirements.
Located in the Gamescom Family Area (Hall 10.2), you'll even be able to take a snapshot of you 'trapped' in Traptanium (the magic crystals used to confine baddies in the game) at the Activision booth, so make sure you stop by. Skylanders Trap Team is expected to hit the Xbox One, Xbox 360, PS4, PS3, Wii U, Wii, 3Ds, and select iOS, Android, and Kindle Fire tablets on October 5th in the US, the 10th in Europe, and on the 2nd in Australia.