Originally set for release this year, 2K Games and developer Turtle Rock Studios' highly anticipated survival shooter has vanished into the mists of 2015.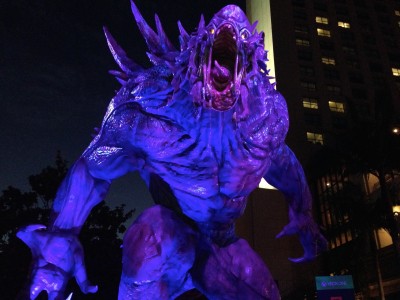 Evolve pits humans vs one giant monster in a battle thats reminiscent of titles like Left 4 Dead, and made quite an impact on gamers at this past E3 as well as the recent SDCC. Not so much playing as the humans, but the idea of playing as a massive 'kaiju' and wreaking havoc on the hapless hunters is a pretty attractive proposal.
Now prospective beasties are going to have to wait a tad longer to slip into their monster-shoes though as 2K has announced that the game will indeed be the latest in a line of titles to slip through 2014's grasp and land firmly in quarter 1, 2015. According to 2K, there's really no massive reason for the delay other than the game needs a little more time in the development oven.
While this is sure to bum out those who were eagerly waiting for Evolve to drop, it does further clear out the already crowded Holiday period.  It's a period that already includes the likes of Middle-earth: Shadow of Mordor, Super Smash Bros, Skylanders Trap Team, Alien: Isolation, The Evil Within, Borderlands: The Pre-Sequel and more. Yeah, that's a crowded month.
So suddenly, maybe waiting till February 10th, 2015 really isn't all that bad. That's when you'll be able to finally play Evolve on the Xbox One, PS4, and PC.
Source: Polygon