For all you lucky folks in the US or Canada you can take part in the PlayStation now beta. For those who don't know, Playstation now is a streaming service, which allows you to 'rent' games and stream them on PS4. Sounds good right? Well, for everyone expecting a Netflix style subscription where you can view unlimited content along as you pay the monthly subscription fee, think again. You can only rent the game for day increments including 1 day, 7 days, or 30 days. Now for the bad news, on averages it costs $25+ (£17.76) for a 30 day rental. Which is pretty much the same as buying it brand new from a shop, and owning a physical copy.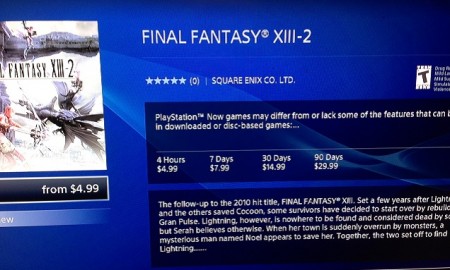 I know it's in beta and Sony have plenty of time to iron out the wrinkles, but who in their right mind at Sony thought this was a good pricing structure? We live in a world which is dominated by Netflix and Amazon Prime streaming, and this is the exact model we wanted when it was announced.
For Sony to publicly state that EA's subscription model is unacceptable and then come out with this, it makes you wonder what the powers that be at Sony are thinking. They are currently missing out on the opportunity to offer two decades of PlayStation classics to a new generation, but for the price they are charging I cant see it taking off. Learn your lessons from the PS VITA Sony.