You're going to be walking away (or should I say 'rolling out'?) with some cool stuff depending on where you pick up a copy of the latest Transformers game.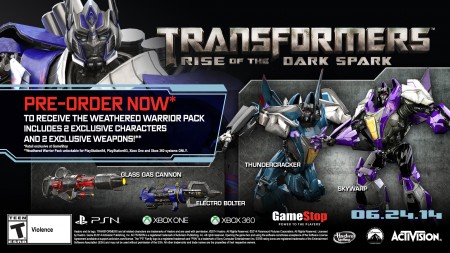 GameStop and Amazon.com customers are in for a little extra transforming action when they grab a copy of Activision's latest game starring Hasbro's Autobots and Decepticons later this month. The game, which stars characters from both the hit game series Transformers: Cybertron and the big budget motion picture franchise from Paramount Pictures, already stars more Transformers than you can shake an Energon Cube at, but if you get your copy from GameStop, you're in for two more.
Fan favorite Decepticon seekers Skywarp and Thundercracker will be available for download (in all but the Wii U version) and use in the game's co-op Escalation and Campaign modes, along with two new weapons in the Electro Bolter and the Glass Gas Cannon, and that's not all. You'll also get two e-Movie Cash Tickets to go see Transformers: Age of Extinction, which hits theaters just a few days after the game launches, and an "exclusive panoramic poster" to hang in your own HQ.
If you buy the game from Amazon on the other hand, you'll get to pick one free Transformers digital comic book out of a list of five available titles. If you're not reading IDW's ongoing monthly Transformers titles by the way, you're not a Transformers fan- it's really good stuff.
So there you have it; comics or in-game Decepticons and a movie. Choose wisely- Transformers: Age of Extinction lands in theaters this month, on June 27th, while Transformers: Rise of the Dark Spark arrives in stores for the Xbox One/360, PS4/3, PC, and Wii U on the 24th.