Tindalos Interactive's new weather-altering RTS Etherium is not he way to E3 next week, but before it gets there the developer has released four new screens.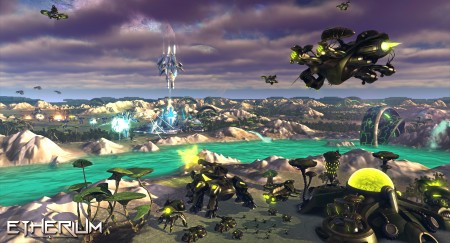 Etherium actually takes place across a few planets in the all-new sci-fi universe dreamt up by Tindalos. We've already seen Arctis (a frozen waste of a world), as well as gotten glimpses of the desert planet of Serenade, the dead world of Desta Fatalis, and the paradise of Renaissance. In today's issuance of screenshots from the game, we're getting a little bit more with some shots of the game in action across a few of these planets.
If you're familiar with RTS' at all, then all three of these shots will be extremely familiar to you as Etherium is a classic-looking real-time strategy game through and through… with a twist in that you can actually control the weather. Think along the lines of whipping up a sandstorm to cover your approach and you get the idea. I'm a long time genre fan, so something new along those lines sounds pretty darn good to me. 'New and different' aren't really words that you normally associate with RTS' after all.
We'll be seeing more from Etherium at E3, but in the meantime have a peek at the new screens and start dreaming up new ways to cause some massive amounts of havoc.