Series 56 (I know right?!) of DST's Marvel-flavored Minimates is finally here in stores. The set showcases a bunch of familiar Spider-Man characters as they're envisioned in the new Amazing Spider-Man 2 motion picture and is pretty loaded with cool stuff for fans of the web-head.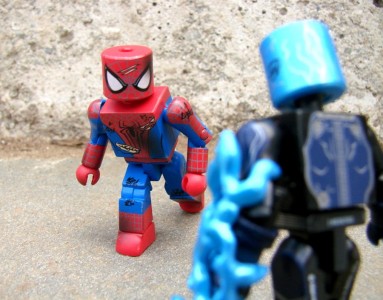 These just seem to get better and better in terms of design and deco. Spidey (who's actually the most featured character in all of Minimate-dom) looks great of course, but so does Electro, and the goblin. And while we don't get to see Rhino in costume, uh, mech-suit, there are two versions of his alter-ego Aleksei Sytsevich included here- and even a figure of spider-slayer creator Alistair Smythe.
All of these should be either in stores as you're reading this, or on the way shortly, so grab 'em if you can find 'em.
The 56th series of Marvel Minimates is here, and it's based on the latest entry in the cinematic world of Marvel superheroes: The Amazing Spider-Man 2! This week, when you pick up the latest issues of your favorite comic book titles at the local comic shop, you can also pick up four different two-packs of Marvel Minimates featuring Spider-Man and his big-screen friends and foes! Check out the gallery, and read all about them!

First up, Spider-Man battles a grinning Green Goblin using his webline and megaphone accessories. Then a Battle-Damaged Spider-Man dons a fireman's helmet to take on a metallic Electro, with lightning attachments and an energy base. Peter Parker and Gwen Stacy pair up in the third two-pack, with a Spider-Man mask, backpack and phone, and the final two-pack gives us Electro's boss Alistair Smythe with a briefcase and a pre-Rhino Aleksei Sytsevich with a machine gun and an alternate pantsless pair of legs.

These four two-packs are exclusively available at comic shops and specialty stores, although Toys "R" Us and toysrus.com will receive slightly different versions of the two Spider-Man sets – one with a serious-faced Green Goblin and one with a translucent Electro. Toys "R" Us will also have their own exclusive two-pack, featuring a "Flashback" version of Spider-Man and a pre-accident Max Dillon with briefcase and newspaper.