C2E2 2014 is well on the way and Valiant Comics will be there with signings, news, and one very cool exclusive.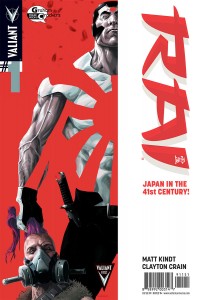 If you're a Valiant fan, and you probably should be considering how terrific their books generally are, then you're going to want to copy this little list of happenings to your phone to have it handy for the show. The publisher will be bringing it's superhero universe to Chi-town's biggest show in a very big way and hits all the marks in terms of what you'd expect to see at one of the biggest Cons of the year.
Looking for an exclusive item? Valiant will have a super-limited variant cover available for it's upcoming Rai #1. Want some signings? They'll have plenty on hand with some of the biggest writers and artists at the company. How about panels? Yep, those too as there'll be a very big presentation on Sunday the 27th entitled Valiant First, which will showcase the publisher's newest initiative.
Here's your rundown:
Join Valiant at Booth #317 for a weekend packed with signings from Valiant creators, including artistClayton Henry (Harbinger, Archer & Armstrong), writer Justin Jordan (Shadowman, X-O Manowar #25), colorist Brian Reber (Unity, X-O Manowar), and more surprise guests! Plus, look for a ton of free giveaways and con-exclusive products, including the RAI #1 Graham Crackers Shared Exclusive Variant by fan favorite artist Kalman Andrasofszky (X-23)!
Limited to 750 copies, get the jump on the hotly anticipated debut title of the VALIANT FIRST publishing initiative with this exclusive, limited edition run of RAI #1 – the FIRST ISSUE of Valiant's next ongoing series from superstar creators Matt Kindt (Unity, Mind MGMT) and Clayton Crain (Carnage, X-Force)! Arriving in comic shops everywhere on April 30th, discover the astonishing world of the 41st century with the all-new series unlike anything else in comics today! In the far future of 4001 A.D., Japan is a single endless city-state, governed by a benevolent artificial intelligence and policed by one lone enforcer – the mysterious Rai, spirit guardian of the rising sun. But, soon, a single bullet will shatter the peace it has taken 2,000 years to secure…
Then, join us on Sunday, April 27th at 2:30 PM in Room #S403 for the VALIANT FIRST: RAI, ARMOR HUNTERS, AND BEYOND panel presentation! The coming of VALIANT FIRST begins at C2E2 with an all-new round of news, announcements, artwork and Q&A about the most in-demand publishing company in comics today. What do you read FIRST? All summer long, Valiant will be rocketing to the top of your read pile with VALIANT FIRST – an all-new initiative unleashing a major #1 issue by some of the most talented creators in comics each month from May onward. With the earth-shaking events ofARMOR HUNTERS – Valiant's colossal summer crossover event – just weeks away, get the inside track on what happens next for X-O MANOWAR, UNITY, BLOODSHOT, HARBINGER, and more from an all-star panel of Valiant creators and staff, including writer Joe Harris (Armor Hunters: Bloodshot), artistClayton Henry (Harbinger, Archer & Armstrong), colorist Brian Reber (Unity, X-O Manowar), Executive Editor Warren Simons, and Chief Creative Officer Dinesh Shamdasani.
C2E2 takes place in Chicago at the South Building At Mccormick Place, April 25th through the 27th.