Some more gameplay footage of Mario Kart 8 has surfaced, and it looks as good as ever. Stages such as Moo Moo Meadows and Mario Circuit are displayed.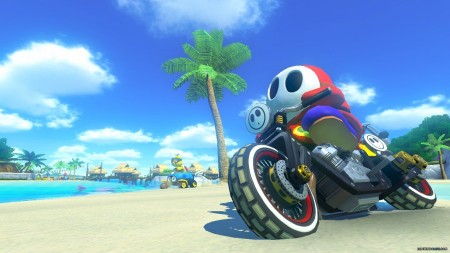 With Mario Kart 8 on its way May 30th, it should come to no surprise that Nintendo isn't putting on the kibosh on the gradual leaking of gameplay videos being released as of late. This is a critical moment in the Wii U's life span, and its upcoming games need as much attention as they can possibly get. The videos and screenshots have yet to disappoint, showing off beautiful use of lighting, and implementation of textures and shading. Moo Moo Meadows in particular is rather impressive, and shows that the Nintendo did indeed do their homework on HD development.
Each video is around a minute long, most likely for the purpose of not spoiling players too much. In the end it's probably better to take Sakurai's approach with Super Smash Bros, giving the player just enough, so as not to spoil all of the surprises to come. As expected, the game runs at a steady 60 fps, even in split screen multiplayer. The game looks fast, and even just watching it gives you a nice sensation of speed. The karts don't trudge along at a snale's pace. Interestingly enough, in Mario Circuit you can see three mushrooms circling around Mario after he gets the triple mushroom item. Whether these can be taken when running into them, just as you could do with the lucky 7, remains to be seen.
Sources: