Satoru Iwata and Kaz Hirai seem to be having a bit of trouble as of late. The challenges they face with waning profits and sales have put them in a difficult position.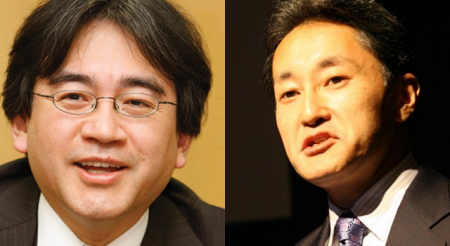 In Iwata's case, it's having to contend with lackluster sales of the Wii U. His approval rating has gone down from 92.9% to 77.3% in a matter of 3 years. Shareholders are currently deliberating over Iwata's future at Nintendo. Hirai faces his own set of issues as well, with Kenichiro Yoshida possibly getting his position as CEO, assuming he continues to steadily climb the corporate ladder. Despite Hirai taking the company in a different direction than Howard Stringer, Sony still faces some massive losses in several divisions, including PlayStation. Granted, both succeed in certain areas, with the PS4 and 3DS selling well. Regardless of these two platforms though, investors remain unsatisfied.
Each have taken steps to try and steer the ship in a different direction. Iwata plans to redouble effort in releasing some good software on the Wii U, as well as come up with some innovations like the quality of life program. Meanwhile Hirai is exploring options such as VR with the Morpheus platform, and cutting some unnecessary fat in the company. It remains to be seen whether these methods will make these two companies succeed in the end, but it's plain to see that new approaches should be taken in order to sustain a healthy video game industry. If two of three major console makers are in trouble, then the industry itself is in somewhat of a bind.
sources: