Fresh from the Emerald City Comic Con, Dark Horse Comics has announced a book that ElfQuest fans are going to want to get in on.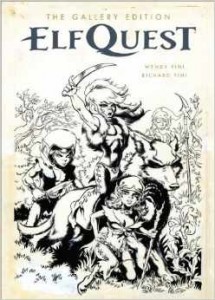 A one-of-a-kind tome, ElfQuest: The Original Quest Gallery Edition binds together the first five issues of the The Original Quest series Fire and Flight in all their glory. And these aren't just reprints either as the scans of the artwork were taken from artist Wendy Pini's original 12 1/8″ by 17″ work.
Presented in black and white and weighing in at 720 pages, this massive book also features a bunch of cool extras including "extensive gallery of concept art, pinups, and covers, with commentary from series creators Wendy and Richard Pini'. Pretty cool stuff, especially if you're a fan from the long history of the series.
ElfQuest: The Original Gallery Edition will hit the shelves in comic shops on October 8th and will be in bookstores not long thereafter, on the 21st. Also coming soon is ElfQuest volume 1: The Original Quest. That collected edition will be riding into stores on August 6th and can be preordered right now.