Just in time for the season 4 finale of the show, you can get 121 issues of the famed zombie comic and inspiration for that AMC TV series for only .99 each.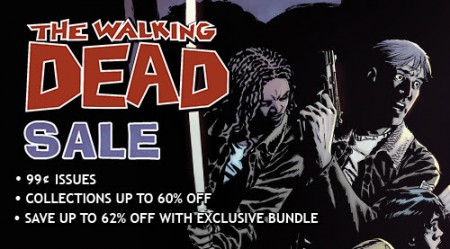 This one's only good through Sunday, but man is it a good one. If you're a fan of the TV show of the same name of a lover of the books who's missed a few issues, you are in luck my friend as the first 121 issues of the series are on sale for less than a buck each via the comiXology e-comic platform.
"This sale is an amazing way to celebrate the Season 4 finale of The Walking Dead," said Robert Kirkman, creator and writer of The Walking Dead and Writer/Executive Producer of The Walking Dead AMC television show. "The Walking Dead comic series stands as my original vision, so I'm very excited to offer fans the chance to read from the start or catch up to the latest release on sale via comiXology's great platform and reading experience!"

"The Walking Dead TV show season finale is here, but there are many more storylines to explore in the books," said comiXology co-founder & CEO David Steinberger. "The moment credits role on Season 4, we know hungry fans will want to know what might happen next and with this sale they've got over 100 issues and 19 volumes to choose from!"
Not too shabby right there, and aside from the single issues seeing a price cut, the collected editions of the book (volumes 1 through 19) are also on sale. Each collected volume will only cost you $4.99 USD till Sunday, which is a great deal if you missed a few chunks of the story here and there.
Maybe the biggest deal of the sale though is the mega-whopper of a collection package which nets you the first 100 issues of the comic for only $74.99 USD. That's a monster savings, especially if you missed out on all the comics and only just started following the adventures of Rick Grimes and co on the tele.
You've got to move faster than a walker if you want a piece of these discounts though, remember that the sale expires on Sunday, March 31st at midnight eastern standard time- so get to clicking!