It's a battle for the ages as the titans of pop culture collide on the shelves of your local comics shop.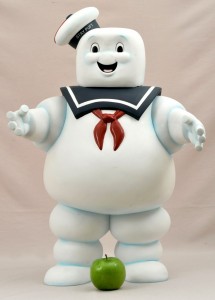 Both of these bad boys are actually banks, if you can believe that, but they'll certainly look good on the shelf even if that's not what you're using them for. These kinds of giant sized toys, a staple of the industry in the '80s and early '90s, just aren't seen all that much anymore so it's a pretty cool treat when one pops up. This week we got two from Diamond Select Toys, and man are they awesome.
Ghostbusters 24″ Stay Puft Marshmallow Man Vinyl Bank

What did you do, Ray?! Well, we'll tell you what we did – we took our already-popular 12-inch vinyl bank of the Stay-Puft Marshmallow Man and made it even bigger! At two feet tall, this hard vinyl bank of the classic Ghostbusters character will hold a fortune in nickels, and tower over your other Ghostbusters toys! Bank has coin slot its back, plus access door for coin removal. Comes packaged in a clear polybag. Sculpted by Bill Mancuso! (Item code #NOV131816, SRP: $124.99)

Godzilla Classic 1989 Vinyl Figural Bank

This vinyl bank of the city-destroying and alien-fighting lizard called Godzilla is based on his appearance in the 1989 movie "Godzilla vs. Biollante"! Cast in sturdy vinyl, the bank features a coin slot hidden between the fins on his back, as well as an access door hidden inside his removable tail! Stands 12 inches tall and measures 18 inches to the tip of his tail! Sculpted by Gentle Giant Studios! (Item #JAN141921, SRP: $34.99)
I'm a sucker for classic Godzilla stuff as well as Ghostbusters, and that Stay Puft  is absolutely amazing. Especially if you missed out on MattyCollector's Stay Puft giant-sized figure from the San Diego Comic Con a few years back, this is as close to a must-have as you can get if you're a big time paranormal investigator and/or eliminator. The thing is two feet tall for pete's sake! It's awesome!
I had the chance to see it in person at the New York Toy Fair not all that long ago and happened to be walking around with someone who didn't really care one way or the other about Ghostbusters, and even she had to ask when the destructor was heading to the shelves. It's that cool. It is expensive though, so you might want to take a look before you commit, but in my estimation this is one marshmallow well worth roasting some cash for.
As for Godzilla, there's no negatives to this one if you're a devotee of the all-time great Japanese monster movies. At only $34.99 USD and with a beastly 18″ from head to tail, this is an impressive piece that'd look great on any desk top. Both figures/banks are not he shelves at your local comics shop right now and can also be found at a bunch of online retailers.