How does a nice Homunculus Mace sound? That and a whole bunch of other gear can be yours if you preorder the digital edition of Dark Souls II on the PC.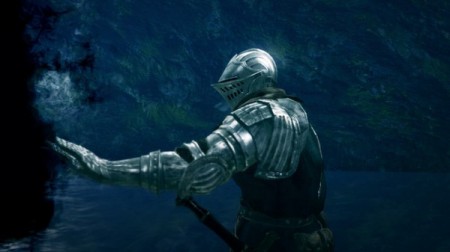 Yes, yes; Dark Souls II is more than likely going to be uber-hard and punishing to the max, but it's also one of the most anticipated games of 2014 and it's almost here. If you're on the fence about your gaming-masochism, you might be swayed ever so gently by the announcement that Namco Bandai will be giving a heaping helping of gear and weapons to gamers who preorder the game digitally for the PC.
And even if you have access to consoles, you might want to buy the game on the old computer since it's the only version coming out that'll have "increased texture resolution with enhanced frame rates". I'm pretty sure that shakes out to mean 'better graphics' and lets face it, if you're going to be hacked to bits, better you look good while it happens.
As for the bonuses, you'll officially be getting the Dark Souls II Black Armor Weapons Pack when you pre-up, which means you'll be taking home some goodies. Here's your list of what's in the pack:
Black Flamestone Dagger and Black Flamestone Parma – A dagger and shield encrusted in Black Flamestone both found in the Gutter at Black Gulch. Even though they are heavier than a normal dagger and shield, the Flamestone crystal's unique properties make the dagger extremely sharp and give the shield high resistance to damage.
Yellow Quartz Longsword and Yellow Quartz Shield – A straight sword and small shield hardened with yellow quartz both uncovered at the bottom of the Iron Keep. Even though these items can break easily due to their high level of corrosion, they are exceptionally light and their power to inflict damage has not declined.
Bound Hand Axe and Bound Wooden Shield – A brutal hand axe and shield found in the Undead Purgatory. Both items are wrapped in chains and thorns to cause additional bleeding on enemies. Both the axe and shield have diminished in overall slashing power but their ability to deliver pain has been deliberately increased.
Homunculus Mace and Homunculus Wooden Shield – A mace and shield with spherical protrusions found in Aldia's Keep. Although heavier-than-normal maces and shields, the hard protrusions greatly increase the striking power of the mace as well as the shield's defensive capabilities.
Transgressor's Staff and Transgressor's Leather Shield – A staff and leather shield entwined with an unknown and seemingly lackluster element; these items are found in the Dark Chasm of Old. They have become a catalyst for sorcery and hex, and they cause an effect known as Darkness.
The PC edition of Dark Souls II will be available on Steam, GameStop, Amazon, and ClubNamco and will also  include digital bonuses like an art book and a digital comic. It'll cost you $49.99 USD.
And for those bigger fans out there, the collector's edition of the game, which'll be available exclusively through GameStop, Amazon, and ClubNamco will contain a download code for DSII and a collectable metal case, a 12" 'Warrior Knight' figurine, a hardbound art book, the original game soundtrack, and a cloth map. All that'll cost you a bit more though as the package will run $109.99 USD.
Both versions will be out and ready to die battle the forces of evil on April 25th.