Exclusive to the mobile version of NetherRealm's Injustice: Gods Among Us, the lord of Apokalypse has officially been added to the roster.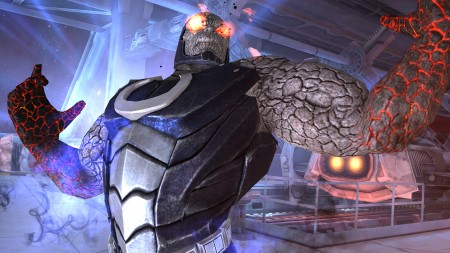 Always kind of conspicuous by his absence, Darkseid has finally joined the rest of the A+ DC Comics pantheon in the NetherRealm developed fighter. Well, he has on mobiles at least.
Superman's biggest foe and one of the major threats to the DCU on any given occasion, Darkseid is joining the roster on the touch-sentitive version of the fighter only… for now anyway. I can't imagine a character as big and as menacing as Darkseid staying on iOS and Android alone, but then again I wonder if his console debut is being saved for a sequel to a game that many would label the best fighter of 2013.
But let's get back to iOS and Android, since that's the version that we;re talking about here and there's a nice little bonus on that mobile version too. Right now, you can get in on an added challenge that'll be running through the 24th of this month. Just complete a 'time sensitive' series of battles and you'll be gifted with a gold character card to call your very own. Not too shabby.
Injustice: Gods Among Us is available right now on iOS and Android, right alongside its cousins on the Xbox 360, PS3, PS4, PS Vita and PC.