The age of the special variant cover returns with Valiant Comics' massive Armor Hunters big Summer crossover.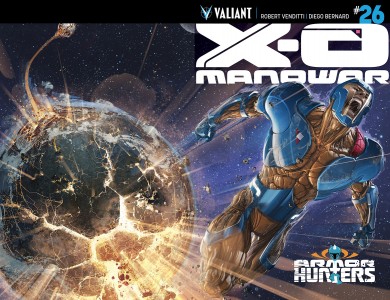 "Valiant introduced Chromium to comics and we won a slew of innovation awards for Joe Quesada's beautiful Chromium cover to the original X-O Manowar #0. We've received countless requests to bring Chromium back since our return in 2012, but wanted to wait until we had a story that justified its return. Now, with Armor Hunters, we have that story. In the wake of the announcement of Valiant First and Rai #1, the timing couldn't be better to launch our biggest crossover event yet with the armor-plated opening salvo it deserves," said Valiant Publisher Fred Pierce.

"This is bigger and bolder than anything we've done before. With Armor Hunters, Robert Venditti and Doug Braithwaite are laying down what could quite possibly be the most ambitious, most high stakes, most consequence-filled story in Valiant's history. We're going to be equally bold with our marketing and sales, and the first of those initiatives is Chromium. It's a story-centric enhancement that reaches right back to Valiant's roots and we're proud to be able to offer these five Armor Hunters Chromium Editions as on-the-shelf items for excited fans across the world," said Valiant CEO and Chief Creative Officer Dinesh Shamdasani.
I hadn't realized that it was Valiant (during its first run) that unleashed the Chromium cover variant on the comic-buying public- that's pretty cool to note actually. The 1990's were loaded with cover gimmicks of course, which is something that you really don't see too often at comic shops these days.
Personally, I'm thrilled to see something like this coming around again as I always liked those alternate covers on my favorite books. There's something about hunting down a variant that's rare that gets you moving as a fan. I suppose that's why they were so massively huge for a good long time there in the pre-millennial years.
As for Valiant's Armor Hunters variants, you can get those best by contacting your local comic shop and pre-ordering them for yourself. There aren't going to be a ton of the issues made, so if you don't pre-up, you might be out of luck on them when the individual issues start hitting this June and July. If you do miss out, you can always grab a standard edition copy of the five books that'll carry the Armor Hunters story. It's just that they won't be as… shiny as these bad boys right here.