The full-on sequel for Cyanide Studios' adaptation of the classic Games Workshop tabletop game looks like a top prospect in this new set of screenshots.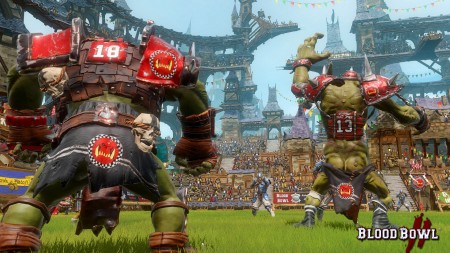 Blood Bowl II looks like a marked improvement over the original is just about every way, and sounds like it should be packed with enough to do for die-hard fans of the property to keep 'em busy for a good long time. The name of the game this time around is leading your squad to victory over the campaign that is a Blood Bowl season in Games Workshop's fantasy realm.
Everything in the single-player mode can be customized too and you can spend winnings and the spoils of games won on your home stadium, building it up into a sports palace to "rival the most prestigious structures in the real world"… not that that would be too hard when you take into consideration that 'real world' sports don't have ogres and orcs charging down the field. In addition to that solo mode, which is much deeper this time around, BBII will also sport a multiplayer option, play-by-play commentary, and some pretty terrific looking graphics thanks to the new engine powering the game's visuals.
And since that last part is more than likely there reason you clicked this link from the main page, let's get to it without further ado:
Blood Bowl II launches for the PC some time in the fourth quarter of this year. It's going to be a Blood Bowl for the Holidays!