In Sakurai's latest pic of the day, we have Waluigi back as an assist trophy in the newest addition of Super Smash Bros.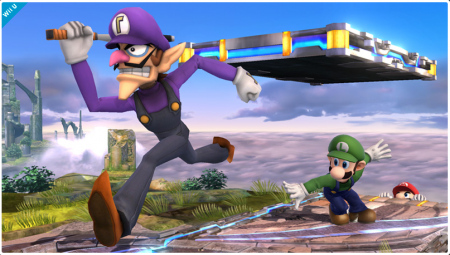 This probably comes as somewhat sobering news to fans who where hoping Luigi's evil rival would be a playable character. Still, it's nice to see Waluigi making another appearance in Smash. He appears unchanged from Super Smash Bros Brawl. He's carrying what looks like a tennis racket, so expect him to hit you into the ground like did before. He was a somewhat formidable assist trophy in the previous game, and will probably prove a nuisance to players that feel the brunt of his attacks as he darts around the arena at high speeds. In the image we also see Luigi close behind him and Mario spectating from the edge of the stage.
Like everything else in Super Smash Bros 4, Waluigi has a new coat of paint on him, so to speak. His character model is updated, with some nice use of shaders and a brighter hue of color. His model from the previous game was less detailed, with an obviously lower poly count. The color was also more drab, and the stitching on his clothes was less visable. It's nice to see Sakurai putting this much love into smaller features of the game like this.