A pair of new deluxe format books celebrating the classic crossover are set to be on store shelves courtesy of Dark Horse Comics.
Comics' greatest creators pit the supreme machine killer against the ultimate cybernetic cop in one of the most celebrated crossovers ever! When fate reveals that the technology that built RoboCop will lead to the creation of Skynet, Alex Murphy must engage in time-twisting battle against both the murderous computer network and the human resistance fighters out to destroy him! This newly restored collection features remastered colors from Steve Oliff and an introduction by 2 Guns writer Steven Grant!
Oh man do I remember this one well. In a time where both franchises were pretty hot, Dark Horse published one of the coolest inter-property crossover books pretty much ever. Coming from Frank Miller and Walt Simonson, RoboCop vs the Terminator was so hot that it even spawned a video game (which wasn't bad either if I recall correctly.
What we have here is no mere reprinting of the comic as it originally appeared back in 1992 either. Dark Horse has a pair of special editions coming up  including one that actually is the first in a series of new books from the publisher.
First up, the 'vanilla' version of the collection will reprint the full story that readers fell in love with years ago. The book won't have any special features other than the hardcover presentation, but will include the remastered artwork and forward from Steve Grant.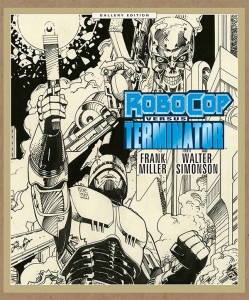 The RoboCop versus The Terminator Gallery Edition on the other hand, will showcase Simonson and Miller's tale in full size, exactly as it appeared on the drafting table all those years ago. You'll also get copies of the original pages with Simonson's pencils and promo artwork displayed as well as an exclusive forward written by the artist in addition to the Grant piece. If you're a big fan of the groundbreaking series, this is probably the way you're going to want to go as it doesn't get too much better than this.
Expect to see the RoboCop vs The Terminator hardcover edition on the racks on July 2nd for $24.99 USD and the Gallery Edition on the 9th for $125 USD.