A whole new series of zombie and survivor Minimates from the mega-popular comic-turned-TV show are on the way from DST.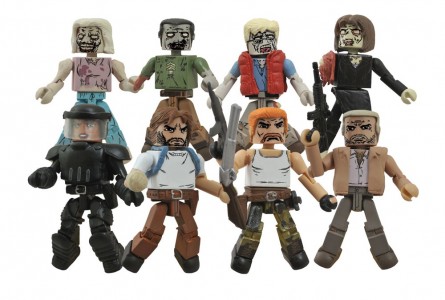 Fans can't get enough of Diamond Select's The Walking Dead Minimates and neither can Toys R Us. The toy giant has an all-new selection of exclusive  Minimates on the way that includes more signature characters like Rick and Michonne, and yes- more zombies.
Four two-packs will be exclusively available at Toys "R" Us and on toysrus.com as part of Series 5, available this spring:
Traveler Rick Grimes and Business Zombie
Riot Gear Michonne and Hitchhiker Zombie
Abraham Ford and Military Zombie
Eugene Porter and Emaciated Zombie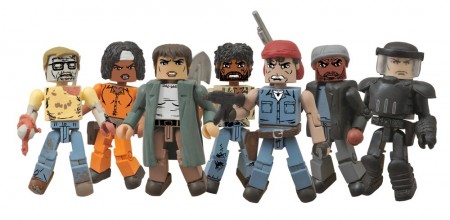 Toys R Us isn't the only place you'll find the rotting walkers though as another collection of the 2″ tall figures is on the way to comic book and specialty stores as well. Included in that series (and expected to hit at about the same time as the TRU wave) will be:
Maggie Greene and Riot Gear Glenn
Tyreese and Prison Michonne
Survivor Morgan and Geek Zombie
Caesar Martinez and Geek Zombie (rare variant)
As always, each two-pack of characters will come with a selection of weapons for the human figure and a decomposing part for the zombie- it's all part of the charm. Both assortments will be hitting this Spring from Diamond Select, so keep an eye out.