It's the eve of the international Toy Fair in New York, but there's plenty of cool stuff on the shelves right now thanks to Diamond Select Toys including Ghostbusters and Captain America Minimates and some great Star Trek, Star Wars, Marvel Comics and Knight Rider collectibles.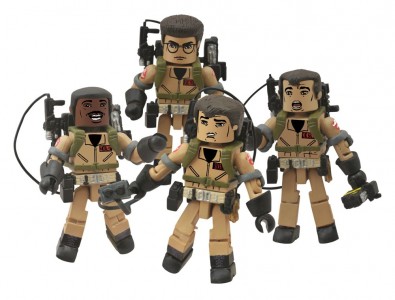 It's not much of a secret that DST's Minimates are a monster success. The toy line has encompassed pretty much every major (and some minor) entertainment property since its debut and there's no stopping in sight. The latest, arriving this week, includes another Ghostbusters box set and a new series based around upcoming sequel film star Captain America.
That's not all this week from the company though as a selection of bust/banks, bottle openers and one very cool vehicle based on Knight Rider's nemesis- KARR!
Here's your lineup of what's in stores as of today:
Marvel Minimates Series 54 Captain America Asst. – The new Captain America movie is on the way, but we couldn't wait to pay tribute to the First Avenger with his own dedicated assortment of Minimates! Series 54 includes four different two-packs, including Fighting Chance Captain America with Robot Red Skull, The Winter Soldier (First Appearance) with The Falcon, Baron Strucker and a Hydra Elite Soldier, and a short-packed variant set with a Hydra Elite and Madame Hydra, a.k.a. Viper! Each Minimate stands 2 inches tall and features a variety of interchangeable parts and accessories. Designed by Art Asylum! (Item #SEP131922, SRP $9.99 ea.)
Star Trek Spock Bust Bank – Saving is logical, but banks can still be fun! Satisfy your human and Vulcan halves with the first in DST's fascinating new line of Star Trek vinyl bust banks! This 8-inch rendering of the USS Enterprise's famous first officer has a coin slot in the back and an access door in the base so you can store your spare change, as well as your conflicting emotions! Sculpted by Patrick Piggott! (Item #JUL131819, SRP: $22.99)
Ghostbusters Minimates "I Love This Town" Box Set – Ghostbusters Minimates are back! The four main Ghostbusters have re-united… for a four-pack based on the final scene of the classic original film! Each 2-inch mini-figure features a new, removable proton pack and various interchangeable parts and accessories (some of them covered with marshmallow). Set comes packaged on a blister card. Designed by Art Asylum! (Item #NOV131817, SRP: $19.99)
Marvel Venom Metal Bottle Opener – Thirsty for vengeance? Have a cool beverage instead, courtesy of this solid metal bottle opener in the shape of Eddie Brock, a.k.a. the Spider-Man villain called Venom! Just wrap his teeth and tongue around the bottlecap of your drink of choice and voila – that thirst goes away, perhaps replaced by a hunger for juicy brains. Measuring just under 4 inches tall, this metal opener has a polished chrome finish, as well as magnets on the back to keep him on your fridge, plotting revenge. Comes packaged in a collector case with full-color slipcover. (Item #OCT131849, SRP: $18)
Star Wars Commander Thire Vinyl Bust Bank – One of the greatest Clone Commanders in the Empire's history is memorialized as the newest vinyl bust bank from DST! Commander Thire (born CC-4477) commanded the Coruscant Guard, elite shock troopers that defended the capital and hunted down Separatists during the Clone Wars. This 8-inch vinyl bust bank features a detailed sculpt and paint, as well as a coin slot for inserting loose change. Sculpted by Oluf Hartvigson! (Item #AUG132040, SRP: $22.99)
Marvel Deadpool Metal Bottle Opener – Need to wash down your tacos with a tasty beverage? Then why not open that bottle with the most bad-ass bottle opener around? The Merc with a Mouth is now a solid metal opener, measuring just under 4 inches tall with a polished chrome finish. Magnets on the back keep him hanging around on your refrigerator, taco truck or unmarked van. Comes packaged in a collector case with full-color slipcover. (Item #SEP131921, SRP: $18)
Knight Rider KARR 1:15 Electronic Vehicle – Watch your rear fender, KITT! The evil vehicle KARR (Knight Automated Roving Robot) appeared in two of the most popular episodes of the classic TV show Knight Rider, where he quickly established himself as one of the greatest vehicular bad guys ever! An early prototype of KITT that later became his greatest foe, KARR is now a 1/15 scale electronic replica, measuring 14 inches long with working lights and sound effects, including some of KARR's classic lines from the show! Packaged in a window box with a try-me button. (Item #NOV131815, SRP: $60)