Dark Horse Comics has officially announced that their offerings for the yearly freebie party will include Itty Bitty Hellboy, Avatar: The Last Airbender and more.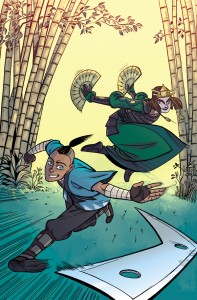 Free comics; what's better? Well, it's probably better if they're comics that you actually want to read- which is just what Dark Horse Comics has announced will be in stores for this coming installment of the yearly 'Free Comic Book Day'.
The publisher will actually have a pair of book on the shelf for the big event with both Free Comic Book Day: Gold and Silver Editions on the way. From the looks of the Gold Edition, there's going to be a little something for everybody in these bad boys.
In addition to new stories from your current Dark Horse favorites, Dark Horse will feature the long-awaited Juice Squeezers by David Lapham, the Eisner Award–winning creator of the smash hit Stray Bullets, writing and drawing his own series again for the first time in five years.

In Avatar: The Last Airbender, Sokka follows Suki as she gives a lesson in manners and encourages a young girl's strength. Itty Bitty Hellboy has fun toying with nemesis Rasputin, and the Juice Squeezers crew leap into action to defend one of their own against a persistent bully. Hilarity ensues!
So the all-new Juice Squeezers (which looks like a lot of fun), Itty Bitty Hellboy and an Avatar tale will all be packed into the Gold edition of Dark Horse's upcoming free edition. And as I mentioned above, that's far from all that'll be available as the Silver volume will also be on the shelf right next to it with even more free comic booky goodness.
Get down to your local shop before Dark Horse Comics' Gold and Silver editions run out on Free Comic Book Day 2014, March 3rd.