The Man Without Fear arrives on the digital-only label with Daredevil: Road Warrior.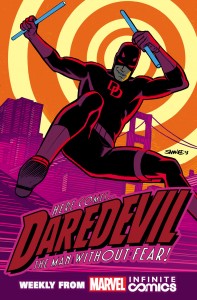 Coming from Daredevil scribe Mark Waid and artist Peter Krause, Road Warrior follows on the heel of Marvel A-listers Iron Man and Wolverine's own Infinite Comics and takes the hero into the e-comic space for an exclusive title that you won't find in print. The book is true to the title and will see Daredevil trekking cross-country- all the way from NYC to sunny California.
"Matt's beginning a whole new chapter in his life following the events of Daredevil #36, and he's excited but apprehensive at the same time," Waid said in an interview with Marvel.com. "You can be a Man Without Fear and still be a little worried about where the next paycheck is coming from. Daredevil: Road Warrior is a coast-to-coast adventure/chase with thrills aplenty."
Look for Daredevil: Road Warrior to arrive on Marvel Infinite Comics via the Marvel Comics App or the Marvel online storefront this coming February.