It was pretty heavily hinted at before the show, but Dark Horse Comics made things official at the New York Comic Con- Geralt is coming to the printed page.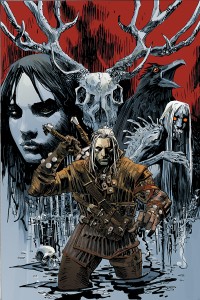 The book will tell a brand new Witcher tale and, much like the publishers other video game-turned comic book properties, expand upon the mythos.
Traveling near the edge of the Black Forest, in the land of the Angren, monster hunter Geralt meets a widowed man whose dead and murderous wife resides in an eerie mansion known as the House of Glass, a place of endless rooms where horror waits around every corner. Geralt will have to use all his witcher prowess to solve the manor's mystery and survive.
The Witcher was, of course, originally based upon a series of novels before CD ProjektRED adapted the property for games. So the world of print isn't exactly new for the character, though starring in a comic book certainly is.
Dark Horse will be looking to continue the series' tradition of dark fantasy storytelling and adventure in that gritty, down and dirty way that only Geralt of Rivia can deliver. And with a third game on the horizon (one that looks spectacular by the way) this is certainly as good of a time as any for a comic debut for the monster-hunting character.
"We're very happy to be working with Dark Horse Comics, which is one of the biggest and most interesting comic book publishing houses in the world. What makes it even more exciting is the fact that, for many of us, the Dark Horse logo has near legendary status, standing for classic stories such as Hellboy or Usagi Yojimbo. We're very happy to be once again expanding the Witcher universe," said Adam Badowski, head of studio for CD Projekt RED.

"We're very excited to work with CD Projekt Red on The Witcher. With the rich world they have created, and an enthralling central character like Geralt, we feel The Witcher is ripe to tell a compelling story through comics," said Nick McWhorter, director of custom programs at Dark Horse Comics.
Look for The Witcher #1 to hit comic stands on March 19th, 2014. The Witcher 3: Wild Hunt doesn't have an exact release date as of yet, but you can expect it sometime next year as well when it lands on the PC, Xbox One and PS4.