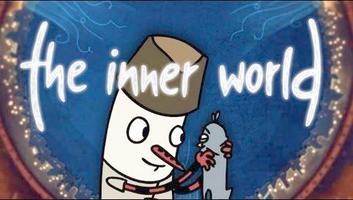 With the rapidly approaching holiday season on the horizon, nothing eases the mind more then a slow paced and unique gaming experience. Once generic COD clones #1-5 release, it'll just turn into a blur of indistinguishable gun fire and explosions. Thus I decided to enjoy a much slower and interesting game that goes by the name of The Inner World.
Made by a German indie studio called Studio Fizbin it was only just released in English on steam. It does have some noticeable German influence and character, of which makes the atmosphere more realistic and foreign. This is a point and click adventure so don't really go into the game expecting some insane gameplay and visuals. The main point of such games tends to be the story and the characters and the riveting characters.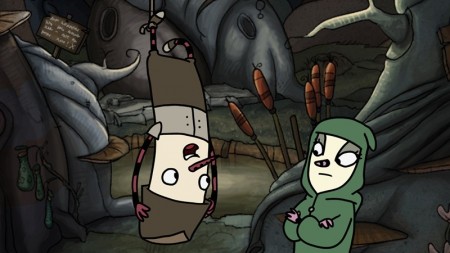 The main story is based around Robert, a young boy from the land of Asprosia found deep inside the earth. All the beings in this world have striped noses of red and black while Robert finds himself with one that is hollow and perforated. This makes him an outcast in this world and he finds himself the servant boy of the local priest. Being inside of the planet, Asprosia relies on wind holes in the ground to provide air and light into the city, but as luck would have it, they are under attack by some monsters who threaten the city's existence.
Long story short, Robert finds himself the as the only one who can rescue everyone else. It has a wonderful plot which alludes to nonconformity and freedom of expression in an otherwise conformist society. It touches themes that few games attempt these days. But the story would be rather dull without any of the clicking we expect from a point and click adventure so don't worry, there will be quite a bit of that. Pretty much everything in the environment has some reason and clicking on it means that Robert will respond with some quirky or interesting phrase. The inventory system is rather basic and makes it hard to figure what combinations of items create what, but still useful.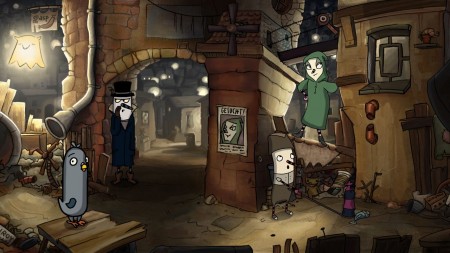 Final Thoughts
This is the kind of game that is so compelling that you have to play straight through and cannot put down. Sure there may be some tough points which confuse and befuddle you, but the end is worth the struggle and confusion. It has some of the most believable characters and atmosphere I've seen in a while and if you were a fan of The Walking Dead game last year, then you owe it to yourself to at least give this a try.