DST's Zombies Villains Box Set is all about two things, some of the biggest baddies in the Marvel U- and zombies.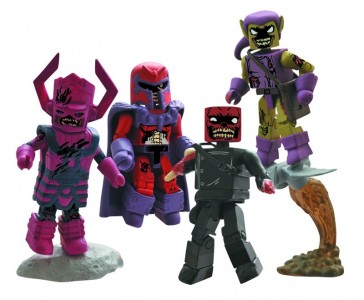 To be specific, we're talking about zombified versions of some of the biggest baddies in the Marvel U. If you've read any of the Marvel Zombies books over the years then you know the story behind these guys. If you haven't, all you need to know is that all the heroes and villains in the Marvel Comics pantheon get transformed into horrific, flesh-eating zombies in an alternate universe. Al the characters you know, from the Red Skull all the way up to Galactus himself- are undead in the Marvel Zombies world.
Included in this new set from Diamond Select Toys is a quartet of chompers including Red Skull, Magneto, The Green Goblin and Galactus.
Included in the set is the usual gaggle of accessories that fans have come to expect from Minimates figures. Inside you'll find "flight stands, a rock base, a Goblin Glider, Magneto's hair, various weapons, removable guts and an alternate Zombie Norman Osborn head". Points for the alt Normie head- that's just cool.
If you want to pick up a set of these creeps, theyll be in stores just in time for Halloween too as they're scheduled to hit for Halloween Comicfest 2013– on October 31st.