We fly into the Dark Knight's latest adventure.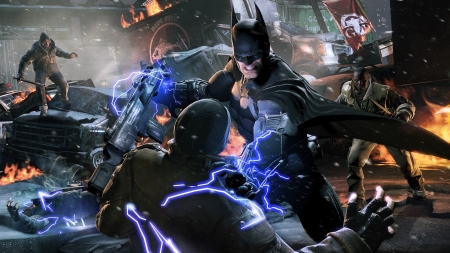 The previous two games in the Arkham series, Arkham Asylum and Arkham City, were both excellent titles and showed what it was possible to do with a licensed character game if you're not tied down to film releases.  However, the newest game in the series, Arkham Origins, is not being developed by Rocksteady, as with the first two, but by Warner Bros. Montreal.  Can it live up to the legacy of the previous Arkham games?
Arkham Origins, as the name suggests, takes place before the events of Arkham Asylum and Arkham City, with a Batman not far into his crime fighting career taking on the Joker.  Black Mask is offering a bounty to anyone who can take Batman out, so of course, Batman has to stop the assassins and save Gotham City.
The first thing you notice is how the game plays very similar to Arkham City.  Gotham is a huge place, as you will see when you get up to the rooftops.  The city looks dark and dingy, with the snow adding an extra feeling of gloom about the place.  As you move around, you get side missions that get sent to you, which you can complete to get bonus XP to allow you to upgrade your gadgets.  There are some new gadgets as well for you to try out, such as the remote Batclaw, which you can use to pull two objects or people into each other.  It gives you another option for dealing with a room full of goons.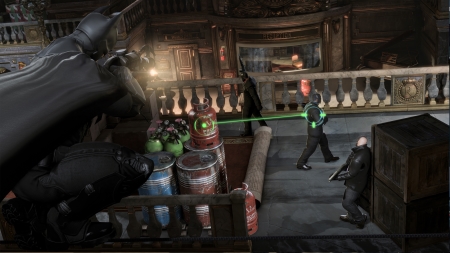 The combat also feels very similar to previous games, however new enemies have been thrown into the mix.  Some of them can counter your counters, which mixes things up and makes things more of a challenge, but combat flows just as well as it has in previous games.  Once you defeat one of the many groups of thugs roaming the city, you'll get XP and a 'Vigilante Rating', which will give you bonus XP points if you get higher ratings.
The voice acting in the game is pretty good, too.  The new voice actors for Batman and the Joker sound pretty good, with the Joker actually sounding quite similar to Mark Hamill.  The sound of gangs of thugs talking about what's going on in the city gives the place character.
The demo on display wasn't long, but if what we played is anything to go by, anyone worried about the series being in the hands of someone other than Rocksteady needn't worry.  Warner Bros Montreal haven't tried to change too much, and have really just built on what's gone before.  Certainly, it seems like another great game in the Arkham series.
Batman: Arkham Origins is scheduled for world wide release on October 25th for PS3, Xbox 360, Wii U and PC.