Fans heading to the east coast's biggest comic/pop culture convention looking for Valiant goodies and exclusive items won't be disappointed as the publisher is hoping to have its "biggest NYCC ever" with all that and more.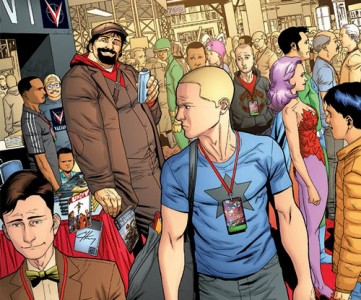 Yeah, Armstrong would probably be like a rampaging bull in the tight confines of the NYCC's crowded halls. Not that he'd mean to be mind you, it's just that he's, you know… big. And a little klutzy.
Fortunately you won't have to worry about bumping into the big man at the show, but you will have a whole bunch of Valiant awesomeness that you'll probably want to seek out at that company's booth. Fresh for the show are the Archer & Armstrong #14 NYCC Variant (by Clayton Henry) and the gigantic, "shelf-busting" X-O Manowar Deluxe Edition Book One hardcover. You might also be interested to know that that one is signed by creators Robert Venditti and Cary Nord. You know, no biggie.
Also at the show (and free of charge) is the Unity #1 preview edition book. This little guy is an NYCC only exclusive item that'll give you a peek inside of not only the first issue of Unity, but also X-O Manowar #19. That issue leads right into Unity and is pretty much required reading if you're going to get into the Valiant U's first team book.
As for panels, Valiant will be holding Valiant Comics: Must Read Valiant at 4pm on Saturday the 12th with a promised slate of news and announcements lined up:
Featuring creators Doug Braithwaite (UNITY), Matt Kindt (UNITY), Greg Pak (Eternal Warrior), and Fred Van Lente (Archer & Armstrong), alongside Valiant Executive Editor Warren Simons and Chief Creative Officer Dinesh Shamdasani, this is the only place to get the first word about the opening shots of UNITY and what's coming next for Shadowman, X-O Manowar, Quantum and Woody, Bloodshot, Harbinger and the rest of Valiant's greatest heroes!
Maybe the coolest thing that Valiant has set for NYCC though isn't a panel or a special offering for you to buy; it's a tour of their NYC offices. If you sign up at the booth (#2028), you'll be able to get in on a twice-daily tour (during NYCC) that Valiant will be giving of their offices in the heart of the City. Get there early if you want in on this one folks- I have a feeling the spots are going to fill up QUICK.
NYCC is October 10th (preview night) through the 13th at the Javits Convention Center in Manhattan.