A new update for the Wii U is up on the eshop, and it's a rather important one. New features like playing Wii games on the Gamepad and taking 720p screenshots are now on the Wii U.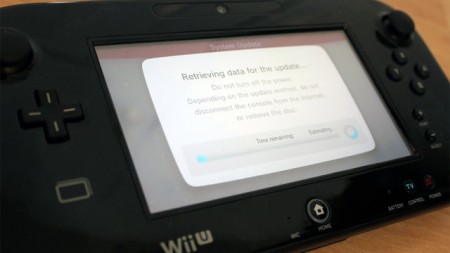 I was slightly confused with the update, because it initially seemed as though you could play Wii games on the gamepad alone. You actually still need a Wii remote to play them, so it more so acts like a mini TV than a controller. Still, there's a convenience in being able to sit at the computer playing Sin and Punishment 2 or No More Heroes. The feature works well. The games on the Wii U gamepad look clear, and the motion controls handle just fine.
You now also have the ability to take 720p high definition screenshots, and can upload them to sites like Twitter and Facebook, as opposed to be limited to Miiverse. Other new additions include the ability to automatically receive software updates and demos, headset chat support for the Wii U gamepad, surround sound for Wii games, use of Nintendo Network on devices such as Smart Phones and Computers, and so much more. Be sure to watch the Nintendo Direct tomorrow as well, as Nintendo President Satoru Iwata will likely have more to say about the new update, not to mention all the 3DS and Wii U announcements along the way.
Source: NeoGAF