You better believe DST will have some goodies and panel presentations on hand for the east coast's biggest Con.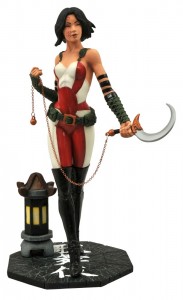 Diamond Select Toys will be offering their usual build-a-Minimate station at the show. All you need do is pick up $20 worth of 'mates at the booth, it doesn't matter which ones, and you'll get a free turn at the counter to put your own character together. The toy maker promises that "Ten years of parts are just waiting for you to create your own one-of-a-kind Minimate to take home!" And just in case that's not enough for you, DST will also be dumping brand new parts into the vat each and every day of the show. Oh, an if you need some stands for your little guys, DST will have those available in three different bags for $4.00 USD each.
Aside from that, the Apple Con show exclusive is an unmasked version of the company's Kabuki statue from their Femme Fatales line of 9″ PVC pieces. Kabuki of course, comes from David Mack's comic of the same name and shows off her facial scars in this 'unmasked' variant of the standard statue. Kabuki Unmasked is limited to 100 pieces and will cost you $45.00 USD at the Diamond booth.
Want some panels? Of course you do:
On Saturday, October 12, at 12:15 pm in room 1A01, Diamond will be hosting "Diamond Select Toys: The Best of All Worlds."
This panel will attempt to cover all of DST's non-Minimates product lines, from Select-scale 7-inch action figures to electronic vehicles to busts to role-play items to vinyl banks. Diamond Select Toys Director Chuck Terceira, Product Manager Robert Yee and Marketing Supervisor Zach Oat will talk Marvel, Batman, Walking Dead, Star Wars, Star Trek, Universal Monsters, Godzilla, Pulp Fiction, Clerks, Lost in Space, Aliens, Sin City and more! Special guests will include sculptors Jean St. Jean and Eli Livingston! They'll also hold a Q&A, announce some brand-new products, and there will be a prize drawing at the end of the panel!
Then on Sunday, Oct. 13 at 1:30 pm, in room 1A08, you'll be able to catch "Marvel Minimates: A Toy Line Turns Ten."
Wrapping up the tenth anniversary celebration of the Marvel Minimates line, Chuck, Robert and Zach will talk about Thor: The Dark World, Captain America: Winter Soldier and their plans for the next decade! Plus, they'll also share info about the other DST Minimates lines, including The Walking Dead, Sin City, Aliens and Battle Beasts, as well as submit to a Q&A session and show off new artwork! Special guests include artist Uriel Caton and animator Alex Kropinak! Plus, there'll be a Minimates-themed prize drawing at the end of the panel!
Make sure you stop by for both panels and at the Diamond booth (which is #2036 on the show floor) for all the action. NYCC runs from October 10th through the 13th at New York City's Javits Center.