Dark Horse's newest addition to their growing line of superhero books is an alcohol-powered rage machine in a comic that's radically different from your usual superhero yarn.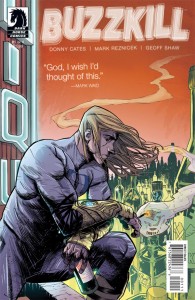 Buzzkill is not only 'different' than what I'm used to from the world of superheroes, but its wholly original and pretty much unlike any comic book I've ever read. I can't think of anything else, well, ever that had this kind of a premise- and I defy you to do the same.
When the story picks up here in the first issue of Buzzkill, 'Ruben' (we don't learn his real name) is at an Alcoholics Anonymous meeting talking about his addiction to drink. Though he more or less tells the tale of his past, his words don't exactly correlate to the action shown in the artwork. And the reason for that is simple- because when Ruben chokes down tremendous amounts of alcohol, he becomes a nigh-invulnerable, flying, muscle-bound monster of a man. Basically think Shazam, but with booze instead of a magic lightning bolt.
Writers Donny Cates and Mark Reznicek (who you may recognize as the drummer from the Toadies) have crafted a pretty traditional superhero around a very untraditional premise in Buzzkill. Ruben wears a colorful costume to fight crime, he's a part of a super-team… the whole nine yards. BUT even though he gets his incredible powers (he's laid waste to whole cities) from drink, he's prone to blacking out when he does and sometimes doesn't even remember what's happened.
That's what leads him to AA and  to the choice to kick the habit, even though it means no longer being 'super'. It's a really fascinating idea for a story since this is a superhero we're talking about here. He's got a tremendous potential to do good and help people (not to mention beat up the bad guys), but his occasional Hulk-like mindlessness leads to some terrible things and situations that he's just barely in control of.
Cates and Reznicek have a great time with it too. The two writers come together here to pen a tale that's morally gray and as hazy as you can imagine. They also give a surprising amount of background info about the world that Ruben inhabits without really having all that much room to do so- this is a pretty standard-length comic remember. You'll indirectly meet some of Ruben's villains (with the promise of a lot more on them to come), see one very big twist, as well as just learn a good deal about his past and what's led him to be who he is.
Helping accomplish all of the above is the fantastic artwork of Geoff Shaw. Shaw's pencils are grungy and have an intentional mundanity to them that tells a story without even reading the text. When Ruben is talking with another superhero (who's in costume), it actually feels more or less like two guys just shooting the breeze- and not so much like two 'heroes' meeting to discuss the fate of the world. That's kind of the point here in issue one. Buzzkill sets a very personal tone that most (if not all) comics in the genre don't really touch on at all and it comes across beautifully.
Final Thoughts
Buzzkill is definitely unique. It's almost like an anti-superhero story. And I don't mean that in the sense that it's putting down the cape brigade, but in the way that it's such a character driven tale and one that's really about the man behind the 'hero'. The super-heroics (such as they are) take a back seat to the 'civilian' struggles that Ruben is going through. This isn't solely related to alcohol either, but it's obviously the focus.
Just where Buzzkill will lead and what kinds of stories can be told here is something that future issues will have to deal with. As for right now though, the inaugural issue of the imbibing hero is most definitely worth your time.