So… this is creepy. Mezco Toyz has a brand new Breaking Bad collectible hitting the market- it's the eye from the "mysterious and unusual" pink teddy bear. Yep. Creepy.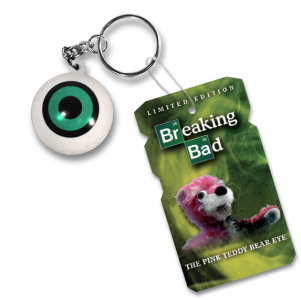 Sure to get looks (see what I did there?) whenever you wield your set of keys, the teddy bear eye from Breaking Bad will eternally be staring "up at you…silently watching…judging…waiting". *insert shiver here*
The full-size replica is an actual keychain so you affix your keys or, as Mezco suggests, attach it to your backpack (extra creepy) for even more stares from interested parties. Want one? If you're one of the legion of fans that the soon-to-be off the air show has, then the answer is probably 'yes'.
Breaking Bad: The Pink Teddy Bear Eye Limited Edition Keychain will be available at Mezco's booth (#1855) at the rapidly approaching New York Comic Con this October. You can still get one even if you're not going to make it to the Con though, just hit up Mezco Toyz' online shop here to grab an eye or whatever else might strike your fancy.