Must Read Valiant is the publisher's new initiative of 'sort of' stand alone stories designed to get new readers on board with the company's characters. The first one debuts with a very creepy Shadowman #13.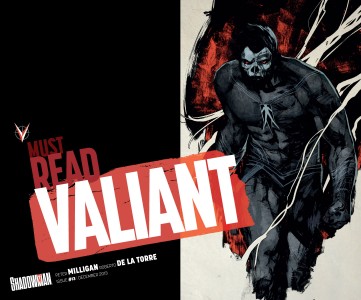 When a troubled young man with a history of violence and a penchant for blackouts meets an overwhelming source of power with a mystical scythe, the results are doomed to be destructive. A voodoo loa has possessed Jack Boniface – or so he believes. But after Jack awakens in an alleyway covered in blood, he embarks on a journey across lands of shadows and death to discover if he can expel the dark force that's seized control of his life…and which may be responsible for a violent rampage through the city he swore to protect.
Taking over in the issue is the new creative team of Peter Milligan and penciler Roberto De La Torre. According to Milligan, this first issue for both the team and the new plotline is going to make things very uncomfortable for Shadowman's alter ego; Jack Boniface.
"My first arc will be an attempt to dig up some dirt, dislodge a few skeletons, and find out what the Hell is really going on with Jack. I'm not throwing everything out with the bath water, I'm just making the bath water a bit more grimy and, hopefully, unpleasant," Milligan told USA Today. "Something is wrong with Jack and to find out what it is he'll need to face some terrible truths about himself and make some big changes in his life."
Shadowman has been pretty universally praised (including by us) and is without a doubt one of Valiant's marquee titles- not that they really have any 'filler' per say. The publisher runs out a limited number of titles every month and they're all almost exclusively triple-A books.
Where the Must Read Valiant heading comes in is in the fact that Shadowman #13 (and other future books) is designed to be as much a jumping on point for new readers as it is just the beginning of a new arc. Interestingly enough, there will actually be a stand alone prelude to Shadowman #13 called Shadowman #13X.
13X is a lead-in for the actual comic and comes polybagged with Bleeding Cool Magazine #7. That one's probably destined to be of the 'hard to find' variety. Look for it on stands (bagged with BCM) on October 23rd. As for Shadowman #13, that'll be on store shelves on December 4th- just in time to put a little nightmare in your Holiday Season.