The other Anni-Padda brother's solo debut sees the Eternal Warrior try to hang up the sword and… sword. Care to guess how that goes?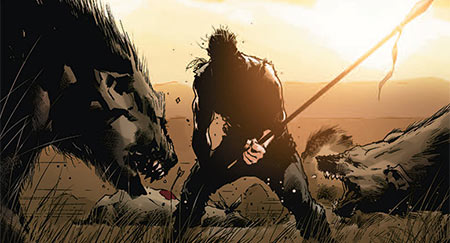 After centuries on the battlefield, Gilad Anni-Padda has abdicated his duties as the Earth's immortal Fist and Steel for a simple life of seclusion. Living quietly among the wilderness, the undying Eternal Warrior has sworn not to raise his sword again – until his own daughter, long thought dead, brings an ancient war raging back to his doorstep…and, with it, a deadly legacy far bigger than a single warrior.
The Eternal Warrior is a book that I've been waiting for personally for a while now. I wasn't all that big a fan of the character the first time around (in the '90s), but he's really caught fire in the new Valiant U and I thought the path that Archer & Armstrong took with him in that comic was really terrific.
It also doesn't hurt that the creative team behind The Eternal Warrior is writer Greg Pak (from Batman/Superman) and artist Trevor Hairsine. Right off the bat, you know the narrative is going to be something special and the artwork is more or less going to rock.
The Eternal Warrior #1 assails store shelves on September 11th from Valiant Comics.