Dark Horse Comics announced today that they'll be publishing more of some of the all-time greatest horror comics with two more archive volumes dedicated to Tales from the Crypt and Vault of Horror.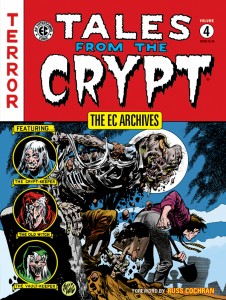 Arriving on shelves just in time for Halloween, Dark Horse's newest archival editions are 'do not miss' books for fans of the classic comic book horror imprint, EC Comics. Originally brought to retail in the 1950's, Entertaining Comics broke the mold and trod a thin line between what was acceptable at the time in American comics and what was downright horrific (but in a good way).
Now with the help of Russ Cochran and Cathy Gaines, both linked to the classic brand that was EC, Dark Horse is bringing horror back to the shelves in a big way with Tales from the Crypt Volume 4 and Vault of Horror Volume 3. Both books will be digitally recolored using original colorist Marie Severin's work as a guide and feature stories drawn by the likes of Jack Davis, Joe Orlando, Jack Kamen, Graham Ingels, George Evans, Reed Crandall, Bill Elder, and Bernie Krigstein.
For long time EC publisher Russ Cochran, working with a larger scale house like Dark Horse to get these classic tomes back into the public eye is a dream come true:
"I have admired Mike Richardson and Dark Horse for many years and am very pleased to be working with them to bring the remainder of the EC archives to fans everywhere," said Russ Cochran. "Dark Horse's strength and clout in the marketplace will open new avenues of distribution for these great comic books."
Tales from the Crypt Volume 4 collects issues #35–#40 of the original comic and will be first up on the block. It'll hit stands just in time for some midnight reading on Halloween too – October 30th. Next up will be Voult of Horror Volume 3, which'll be available to ring in 2014 this coming January.
Till then boils and ghouls! -insert cackling laugh here-