Looking very impressive is Flying Wild Hog and Devolver Digital's take on the classic 3D Realms shooter Shadow Warrior.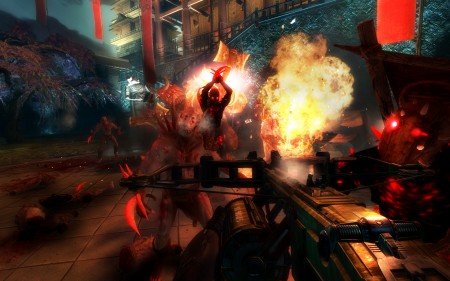 Shadow Warrior tells the offbeat tale of Zilla Enterprise's corporate shogun, Lo Wang, who is ordered by his employer to track down and acquire a legendary blade known as the Nobitsura Kage. Forced into a timeless battle, Lo Wang learns of the blade's connection to ancient gods from another realm, pushing our world to the brink of destruction. Aided by Hoji, a banished spirit from this mysterious world, Lo Wang must use a masterful combination of gun, blade, magic and wit to discover the truth behind the demonic invasion and banish the encroaching forces back into the darkness.
Not a sequel to the controversial game (well, it was when it was first released back in 1997 anyway), but a reimagining; the new Shadow Warrior takes much of what made the original so much fun and paints it with a thorough coat of modern graphical kaboom. Flying Wild Hog (who also made the excellent FPS Hard Reset) promises Shadow Warrior will blend the "viciously over-the-top gunplay of its predecessor with the elegant precision of the powerful katana". Swordplay, guns aplenty, magic… not a whole lot there to dislike.
No release date has been revealed as of yet, but you can expect Shadow Warrior to assault PC's and next generation consoles.