Marvel Comics and LEGO are teaming up once again, this time to feature the comic book universes biggest characters as minifigures for a special set of variant covers.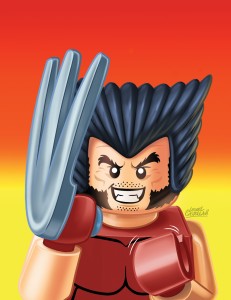 Okay so this is just way to cool.
LEGO and Marvel Comics have formed a pretty cool partnership over the last few years, offering building sets and now a game based on a LEGO-tized version of the Marvel Cinematic, cartoon and comic book Universes.
"Working with the folks at The LEGO Group to do these homage covers is an absolute blast! As soon as we came up with the concept of doing the covers, I couldn't wait to get an idea off the ground that really does justice to both the Marvel heroes and the LEGO brand," explained David Gabriel, SVP of Sales, Print & Digital. "This program is the best blend of both worlds and we know it will really excite our fans and hope that Lego fans also find their way into comic shops to pick these up!"
Characters form pop culture and comics appearing as LEGO figures and sets (and games) is really nothing new. LEGO figures appearing on comic book covers though, now that's different and it's exactly what Marvel has cooking for a brand new set of variant covers.
Each cover is based on a classic Marvel cover from one of the books it'll appear on. And these covers are of the iconic variety- just have a gander at those Wolverine and Hulk pieces. Pure classic Marvel.
In all, the issues you'll need to be on the lookout for are:
All-New X-Men #17
Avengers #21
Avengers A.I. #4
Captain America #12
Daredevil #31
Fantastic Four #13
Guardians Of The Galaxy #7
Hawkeye #15
Indestructible Hulk #14
Infinity #3
Iron Man #17
Marvel Universe: Avengers Assemble #1
Mighty Avengers 1
New Avengers #11
Nova #8
Secret Avengers #10
Superior Spider-Man #19
Thor: God Of Thunder #14
Uncanny Avengers #12
Wolverine & The X-Men #36
 X-Men #5
Oh, and while I'm reminded, I really need to have some LEGO sets based on the Fantastic Four. So get to work on those please guys? …also Daredevil, more X-Men and some classic Infinity Gauntlet goodness.