US game retail shop GameStop is 'recalling' the 8GB version of the console.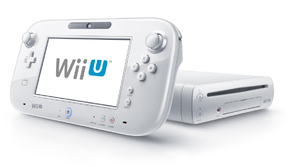 So why the recall? Well, for starters the 8GB set (the Basic Model) isn't nearly as desirable as its 32GB big brother, which comes loaded with quite a bit more value for its $50 more in cost. Secondly, Nintendo just announced a 32 gig 'Premium Set' which is basically the same as the 32GB Deluxe Set- only in white instead of black.
So is Nintendo just swapping the white Basic Set for the white Premium Set? If they are, it's only in the US as the company has confirmed that the Wii U Basic isn't being discontinued all together, only recalled in parts of the world to better balance stock. Also kind of interesting is that the recall at GameStop is set to begin one week after the Nintendo Direct that's taking the place of the software/hardware giant's E3 press conference on June 18th. So that might very well mean that the Big N will be announcing further plans for the 8GB Basic Set then and there.
It is a bit of a mystery where the Deluxe Set fits in with all this 'premium' and 'basic' talk as of now to be honest. With it being the same or very similar to the Premium, does it even need to exist at all? With E3 coming up rapidly (in two weeks), there's no doubt that we'll be hearing plenty more about all of the above and more from Nintendo.