Tony Stark would be proud- Marvel Comics has relaunched their website as an adaptive page that conforms to any size screen.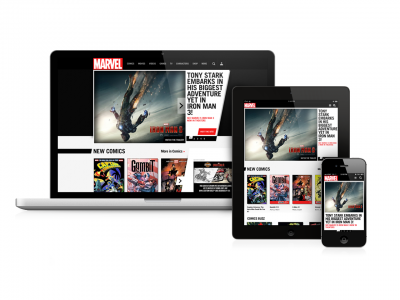 According to the comic publishing giant, more and more users are using mobile devices to visit Marvel.com and the relaunch is a direct response to that trend. So now, whether you have a tablet, smartphone or a desktop, you'll be right at home on Marvel's online home.
"More and more people are accessing Marvel.com from mobile devices," says Kristin Vincent, Marvel VP of Product. "We want them to have a great experience, whether they're in a store on their phone or sitting on a couch with an iPad."
With an ever evolving look to it, Marvel.com is fully adaptable to the touchscreens and standard monitors of any system – be it Android, iOS or web. And the homepage is just the start of the overhaul. Vincent says that the rest of Marvel's online site will be receiving similar enhancements and will be just as flexible.
"It's not just about using the latest technology, it's about making it easier for Marvel fans to find what they're looking for," continues Vincent. "And as we roll this new design out to the rest of the site, we'll be adding some new features we're really excited about, so people should check back."
If you want to try out the new look site, Marvel suggests just opening up your browser and playing around with the size of the window. I just took a look myself and it's pretty slick stuff.