Conan and the People of the Black Circle has officially been announced and sounds like one not to be missed by fans of the Cimmerian.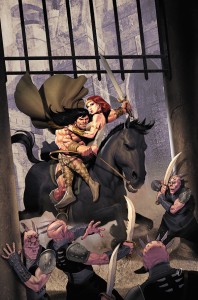 Conan has easily become one of my favorite characters over the years and it's pretty much all due to Dark Horse's ongoing interpretation of the Robert E Howard created barbarian. That's not to say that I didn't like the classic Arnold Schwarzenegger version of the character, it's just that Dark Horse's version is the Conan that Howard intended.
The stories are loaded up with action, have a bit of humor to them, and are for the most part all around awesome. So with that in mind, I'm pretty happy that the publisher has taken the wraps off of Conan and the People of the Dark Circle. Dark Circle is a four issue miniseries set ten years after the events in the current ongoing title that Dark Horse puts out (read: the future). The book, from the creative team of Fred Van Lente and artist Ariel Olivetti, will follow Conan into the mountains as he confronts a world filled with 'dark magic and assassins'.
"I'm thrilled to be working from one of the best Conan stories Howard ever wrote, with the most interesting female lead and one of the Cimmerian's most compelling adversaries," stated Van Lente. "But what I'm most excited about is seeing what Ariel Olivetti does with my scripts—he was born to draw Conan, and his painted artwork should attract anyone who doesn't know anything about Conan or Robert E. Howard but just loves things that are awesome."
Awesome indeed. Also pretty cool about this one is that Van Lente and Olivetti have worked before on both Hercules and Hulk and have done so with no short amount of fan acclaim. So is this one not to miss? Yeah I'd say so.
Conan and the People of the Black Circle #1 will ride into comic shops this October the 16th from Dark Horse Comics.