Fans of Brian Michael Bendis and Michael Avon Oeming's Powers should be happy as Dark Horse Deluxe will have a line of figures and collectibles based on the popular series on shelves soon.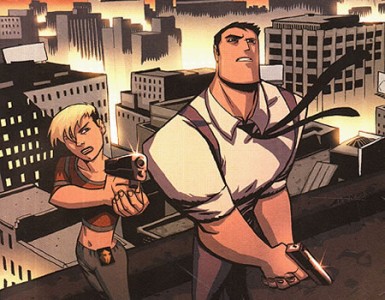 The book mashes up superhero comics and crime noire into a story that follows a pair of police detectives assigned to cases involving superpowered heroes and villains. While Powers has put together a pretty nice run for itself and has been around for a while, action figures (and collectibles in general) haven't been exactly plentiful for fans to get their hands on. Till now that is.
"We have been very particular about merchandising Powers over the years, because I wanted to make sure it was the highest-quality merchandise we could offer," said Brian Michael Bendis. "I am a giant fan of Dark Horse and the care they give their merchandising. I am very excited about this partnership."
First in the offering will be a statue based on the central character of Powers' first big arch with Retro Girl. Artist Michael Avon Oeming brought his signature animated style to the sculpting process as he, Bendis and Dark Horse all came together for the control art that'll be used for the finished product. Dark Horse is looking to "capture the stylized nature of the graphic art, while anchoring the figure in realism."
Next up after that will be a collector's set that'll include the main characters of Powers- Walker and Pilgrim, as 4-5″ vinyl figures. Both Retro Girl and the box set are expected to hit stores at Holiday time this year. Powers fans might want to mark their calendars too, as Dark Horse Deluxe will be showing off the pieces in progress at the San Diego Comic Con this July.