Well, you had to see this one coming. With so much content available that expands The Elder Scrolls V: Skyrim out there, Bethesda has gone and collected all of it into one Legendary Edition of the game.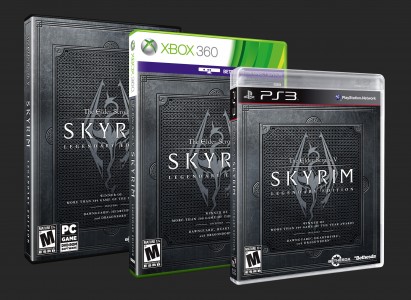 If you're new to the world of Skyrim, this is the edition of the uber-successful action/RPG to get. In fact, even if you've bought into the game already, you might want to get this one since it collects all the DLC for game into one neat package.
In all, you get:
The Elder Scrolls V: Skyrim (duh)
The vampiric expansion – Dawnguard
The ability to build your own homestead in Hearthfire
and the massive Dragonborn
Also in the pack are all the updates and fixes like "dded features like combat cameras, mounted combat, Legendary difficulty mode for hardcore players, and Legendary skills – enabling you to master every perk and level up your skills infinitely."
The Elder Scrolls V: Skyrim Legendary Edition will be on store shelves for the Xbox 360, PS3, and PC on June 4 and will cost you $59.99 USD.