The year was 1967, the episode was Trouble with Tribbles – and one of the most memorable Star Trek 'characters' made its debut. Now those same little furballs have made their Minimate debut in a special edition of the upcoming Enterprise set from DST.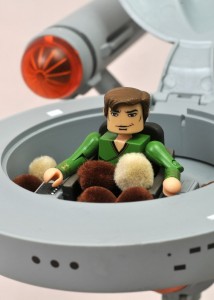 There are a few versions of the Minimate 'Enterprise' playset on the way this Spring from Diamond Select Toys with both standard and Mirror Universe versions already announced; something tells me that this might be the edition that every fan is going to want on their shelf though.

The 'Trouble with Tribbles' Enterprise includes the Enterprise playset, which has an opening bridge and Jeffries Tube, as well as a unique Captain Jim Kirk Minimate dressed in his green tunic. The big difference between this Action Figure Express edition of the famous ship and the regular version though is that this one comes complete with a whole mess of Tribbles to clutter up the good Captain's command chair.
A unique Kirk would probably be enough to make this a worthy addition to your own fleet, but add in some pint-sized Tribbles and you've got something you probably shouldn't miss out on. It is an AFX exclusive item though, so if you don't want to end up paying premium prices from Harry Mudd down the road, you might want to click here and order one for yourself now.