Brutal Gamer is proud to sponsor a pretty monstrous Portal swag giveaway (which includes a Portal gun!) in conjunction with PrintExpress, Valve, and more!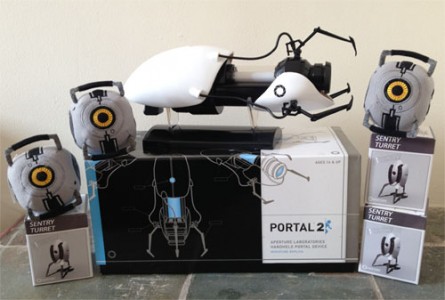 The Portal gun replicas from NECA Toys are some of the most difficult to find and hotly sought after video game collectables on the market today. We had the chance to check one out at Toy Fair in NYC this past February, and believe us- if you're a Portal fan, you want one.
Now if you haven't managed to get one for yourself don't fret, because PrintExpress has one to give away. But wait, there's more, because the UK based printing company has teamed with Valve and a few select geek culture and gaming sites (us included) to put together one amazing selection of goodies.
Entering the competition is easy- all you need to do is work up an original 'Portal' inspired piece of artwork (drawing, painting, etc…) and email it to PrintExpress. That's it- just let the artist in you run wild for a bit and you might be walking away with a replica Aperture Labs Portal device! PrintExpress will even send you a professional print of your work along with the replica as a bonus; how's that for cool?
Aside from that grand prize package, runners-up will receive mini-Portal devices, sentry turrets, plush cores (in spaaaaaaaaaace!), and more. So to put it mildly, your chances of coming out of this with something super-cool are pretty high.
The Portal contest is open to all our readers in the UK, US, and everywhere in between. You can check out the full rules and entry info on PrintExpress' site right here. The giveaway will run through April 30th.
Good luck, and uh… don't forget your long fall boots.