This weekend's Emerald City Comic Con is the place and the exclusive item is a digital comic featuring Red 5 Comics' Atomic Robo.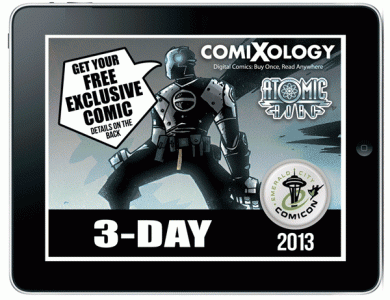 If you're going to be at the ECCC, then a free comic you'll be getting. But instead of the usual table filled with rummaged through physical copies of Atomic Robo: Along Came a Tyrantula, you'll be flipping over your show badge for a download code. Ladies and gentlemen, we are officially in the future.
And lest you think that the issue of AR was simply adapted to comiXology's Guided View comic reading tech, think again. The freebie is 100% original and made to order.
"This is not a paper comic adapted to digital. It was a from-scratch ground-up experiment with the boundaries of the comic reading experience. Without the tools that comiXology's Guided View provides, it would not have been possible," said Atomic Robo creators Brian Clevinger and Scott Wegener. " We can't wait to hear the reaction from the Emerald City Comicon debut. Atomic Robo is an action scientist, and it was great to have the chance to more deeply explore his action side for this comic."
If you're new to comiXology, stop by booth #2101 on the show floor as they'll be presenting their wares there. You don't need to pop in per say, the code for the book is on your badge after all, but if you're unfamiliar with the company you really should take a look see.
ComiXology has pretty much single handedly changed the comic book reading landscape by making it immeasurably simpler to read on a computer, and so easy to read a comic on a tablet that it's pretty much second nature.
The Emerald City Comic Con is the largest show of its kind in the Pacific Northwest and runs March 1st through the 3rd.