The super-team fights their way across a bleak world as the Age of Ultron heats up in issue 8 of the series. And things get a little extra rough when the Apocalypse Twins and Kang the Conqueror himself make their presence known.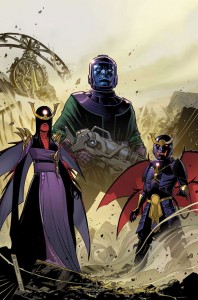 One thing's for sure, when you're talking about Apocalypse and Kang, you're talking about some of Marvel's heaviest hitters- and these are guys and gals that probably don't take too kindly to Ultron riding roughshod over a world that they see themselves dominating…
Marvel is pleased to announce Uncanny Avengers #8AU from the blockbuster team of Rick Remender, Gerry Duggan & Adam Kubert! This May, the Uncanny Avengers must band together and make their way throughout this new dystopian world. But when The Apocalypse Twins and Kang are involved, will they make it out of the Age of Ultron in one piece? And when Havok and Rogue set off to save the Morlocks, what secret will Rogue unearth about the Twin's hidden past?

"We've been setting up the role of Apocalypse, the Apocalypse Twins in the Marvel Universe, and with this issue readers get their first in-depth look at them AND a MAJOR reveal in regards to Kang's involvement in it all," explained Remender. "It also hints at a big future romance we're developing. Do not miss this issue."
This is a monster of an event, that's for sure. It's one that Marvel promises will have long lasting implications on the Marvel U too.
"When Rick first told me about the Uncanny Avengers I was floored – it's such a fun book with so many threads are being woven together. Fans are only starting to see the hints of where this run is going," explained Duggan. "Age Of Ultron asks one of the greatest questions fans have been wondering for decades, what if Ultron won?! And throughout the event, people are going to love seeing these dominoes…and characters fall. The story I'm cooking up with Rick and Adam is a fun, but important story that marries two timelines, and I'm just thrilled to be a part of it in some small way."
Find out how the dominance of one of Marvel's oldest baddies continues in Uncanny Avengers #8AU when it hits stands this May.