The latest downloadable pack for Battlefield 3 End Game brings new maps, modes, and dirt bikes to EA's popular shooter.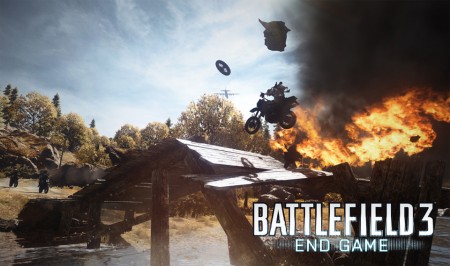 New maps are a given, but End Game will certainly be packing much more than that when it lands on consoles in March. About those maps though, these come with a twist.
Each of the four new locales, which include Railroad and Operation Riverside, are modeled after one of the four seasons. Yes, End Game truly is a pack for all seasons as Winter, Spring, Summer, and Fall will all be providing their unique visuals to the maps- all of which are designed for fast, high speed combat.

Maybe the most exciting addition to the game are the classic Capture the Flag and Air Superiority game modes. EA mentions that dropships will play a big part in the new pack as well, as will the rapid deployment of troops that come along with them.
Also new in End Game is the dirt bike, which promises to bring 'fast and agile' combat to the virtual front lines, and two new AA vehicles. Of course there'll also be 5 all new assignments, 16 new dog tags, and 5 new achievements/trophies to collect.
Not a bad set by any means and a worth addition to one of the more popular multiplayer shooters in recent years. Battlefield 3: End Game will be available as a digital download this March for the Xbox 360, PS3, and PC for 1200mspts or $14.99 USD respectively.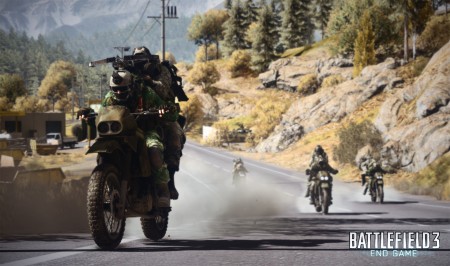 As a little bonus, PS3 Battlefield Premium players will get access to the download a week before the other two platforms. A firm release date for the pack is still incoming though.