Looks like the jade giant is set on a collision course with the Frost Giants and an unexpected team-up with the legendary God of Thunder.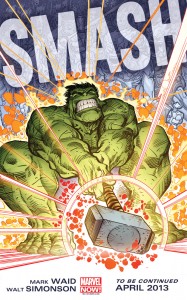 This April the creative team of Walt Simonson (yay!) and Mark Waid will be taking Bruce Banner and his mean, green alter-ego on a trip to Jotunheim. Apparently, the good doctor is on a secret mission for S.H.I.E.L.D. and when he and his team are discovered by some very angry frosty's, he gets a lil angry.
"The Marvel Universe's two most powerful heroes — the Hulk and Thor — join forces to quell a centuries-old war between Godlike forces," says Axel Alonso, Editor In Chief, Marvel Entertainment. "But first, they'll throw down in a slugfest to prove who's more worthy to wield that pesky hammer.  It's an epic tale featuring two of Marvel's most popular characters, told by two creators at the top of their craft."
I've always been a big fan of the Hulk, Waid, and Simonson- and Marvel's new Thor: God of Thunder book has me enthralled- so this is definitely a story arc to watch as far as I'm concerned. Talking to Marvel.com, writer Mark Waid revealed some of the bits and pieces that'll be involved in just how it is that Banner and his S.H.I.E.L.D. team (and of course the Hulk) get to the Jotun's branch of the World Tree and just what it is he might be after in the frozen wastes.
"Banner claims that he's taking his crew to Jotunheim in search of a specific element that exists only at Frost Giant temperatures," said writer Mark Waid in an interview with Marvel.com. "But Bruce has a hidden motive, as well. The real fun of it is how Bruce and his team get to Jotunheim in the first place; it's a nifty piece of applied science, if I do say so myself."
 The Indestructible Hulk #6 hits stands this April and will include a code for a free digital copy of the book as well as augmented reality features for use with Marvel's AR App.