One of the best games of 2011 debuts on the Wii U with a specially enhanced edition, arriving this week.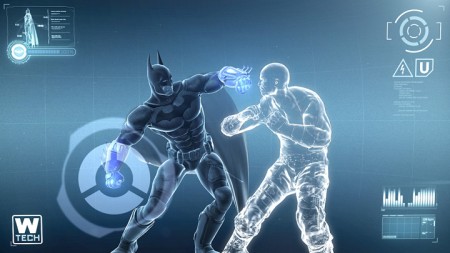 Not that you can actually play it yet, since the console itself doesn't hit retail until this weekend, but the Wii U version of Arkham City boasts some nice upgrades over the Xbox 360 and PS3 versions. Most of the 'new' focuses on the B.A.T. system, that's the new combat system that boosts your stats for a bit allowing for more powerful attacks as you fight.
Of course the Wii U GamePad figures in pretty nicely too giving players a second screen with which to access the Batcomputer back in the cave without ever leaving the main screen.
Batman: Arkham City Armored Edition introduces Battle Armored Tech (B.A.T.) combat mode and new Armored Suits for both Batman and Catwoman. The upgraded battle suits give players the ability to store kinetic energy during combat, allowing them to enter B.A.T. mode and deliver hard-hitting justice to Gotham's villains. Fans are also introduced to a more seamless experience as they are given convenient access to the Batcomputer, which is made available instantly through the Wii U GamePad touch screen that allows players to select objectives, choose their gadgets, track forensic evidence for important clues, set off explosive gel and more, all while staying immersed in the on-screen action.
While the game first debuted a while ago on Sony and Microsoft's consoles, that doesn't mean that it's not a great time. We reviewed Arkham City (here) when it originally debuted  last Holiday season and found it to be a legitimate Game of the Year candidate. And if you haven't played it before, this is the version to get as all of the pieces of post release DLC (including the Nightwing and Robin maps) are included right on the disc.