The publishing giant names its Most Wanted remake as the "most socially connected game of this generation".

With an open world setting and the Autolog 2 feature, EA just might have something there with that claim. At the very least, Most Wanted certainly seems like it's the most socially connected racing game of this generation.
Developer Criterion's Autolog 2 feature is a pretty unique setup all by itself and I can't think of another racer off the top of my head that makes use of anything like it. The tracking engine actually logs (hence the name) and compares everything you do in game with what your pals are doing in game. It then integrates "gameplay recommendations" into the game world when you fire your copy up to play.
So if you see something like a big jump, you can see who out of your online friends (or enemies… or frenemies) has made that leap (or whatever) and just how they did on it. That's some pretty nifty stuff.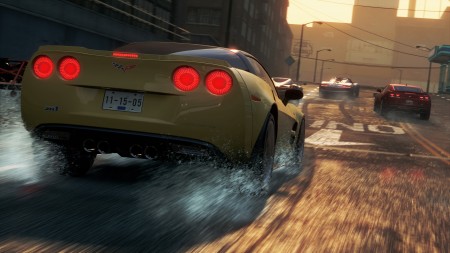 "With our years of experience creating critically acclaimed blockbuster hits, Need for Speed Most Wanted is Criterion's vision to shake up the series and breathe new life into the genre," said Matt Webster, Executive Producer, Criterion Games. "We're throwing years of convention out the window and creating an open world game with an open structure that lets players drive whatever car they want, how they want, without consequences. We've built an experience full of variety that enables freedom and choice for the player to play the game the way they choose. Take down friends in a race to the finish, explore the city to find new cars, flash past speed cameras, jump through billboards or take on an Autolog Recommendation. Not only do players have complete freedom, they're rewarded for everything they do. With friends so naturally embedded into the heart of the experience, Need for Speed Most Wanted is the most socially-connected game of this generation."
Need for Speed Most Wanted is available now in North America (tomorrow in Europe) for almost everything… by which I mean the Xbox 360 (with Kinect support), the PlayStation 3, PC, PlayStation Vita,iPhone, iPad, iPod touch, and Android.